Classic Pecan Pie is a great Southern treat that is incredibly easy and delicious, with loads of buttery pecans baked in a soft filling made with eggs, butter, and sugar. It has a total of eight easy ingredients, and if using a frozen or premade crust, you can have it in the oven in less than ten minutes.
I love to serve this homemade Pecan Pie during the holidays, especially around Thanksgiving, along with pumpkin pie and Dutch apple pie.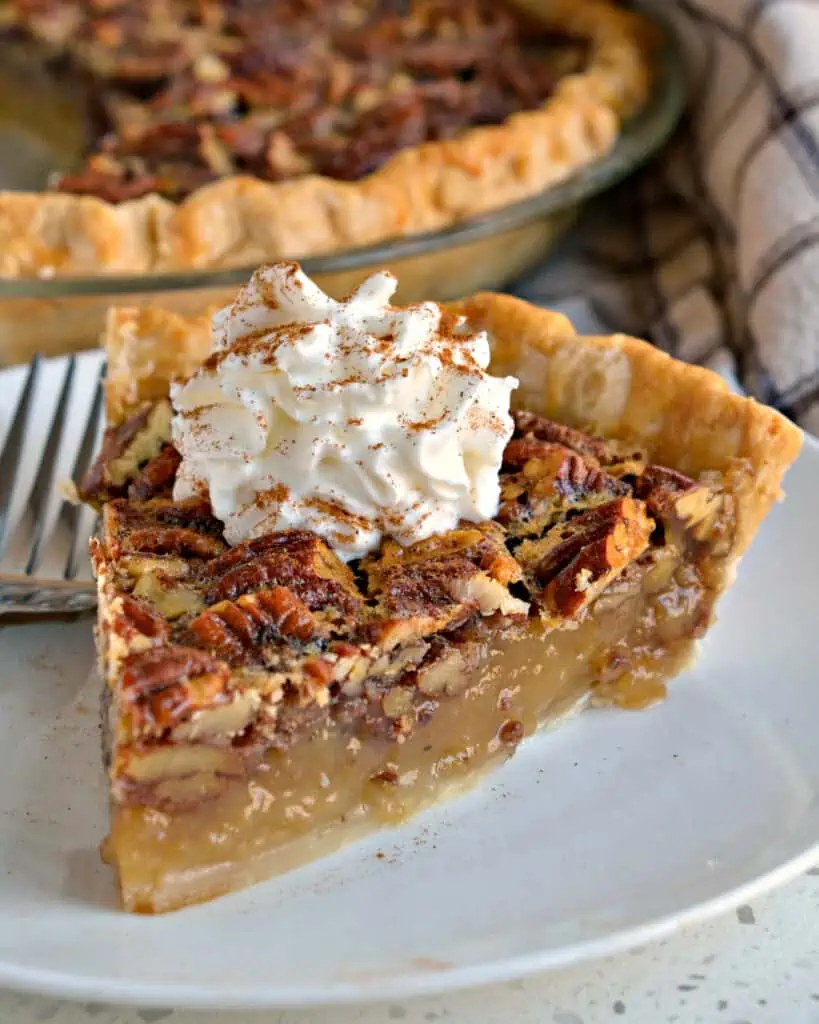 WHY THIS RECIPE WORKS!
This pie is always a big family hit. I mean, honestly, who wouldn't love a soft buttery mess of pecans nestled in soft sweetness made with eggs, brown sugar, and butter all in a flaky, buttery crust? Oh, did I forget to mention the butter?
If using a frozen or premade pie crust, this pie is in the oven in less than 10 minutes, leaving you plenty of time for the rest of the meal.
The ingredients for this pie are readily available at most local grocery stores. There is nothing complicated here, and you can even pick up a frozen pie crust or premade pie crust at the grocery store.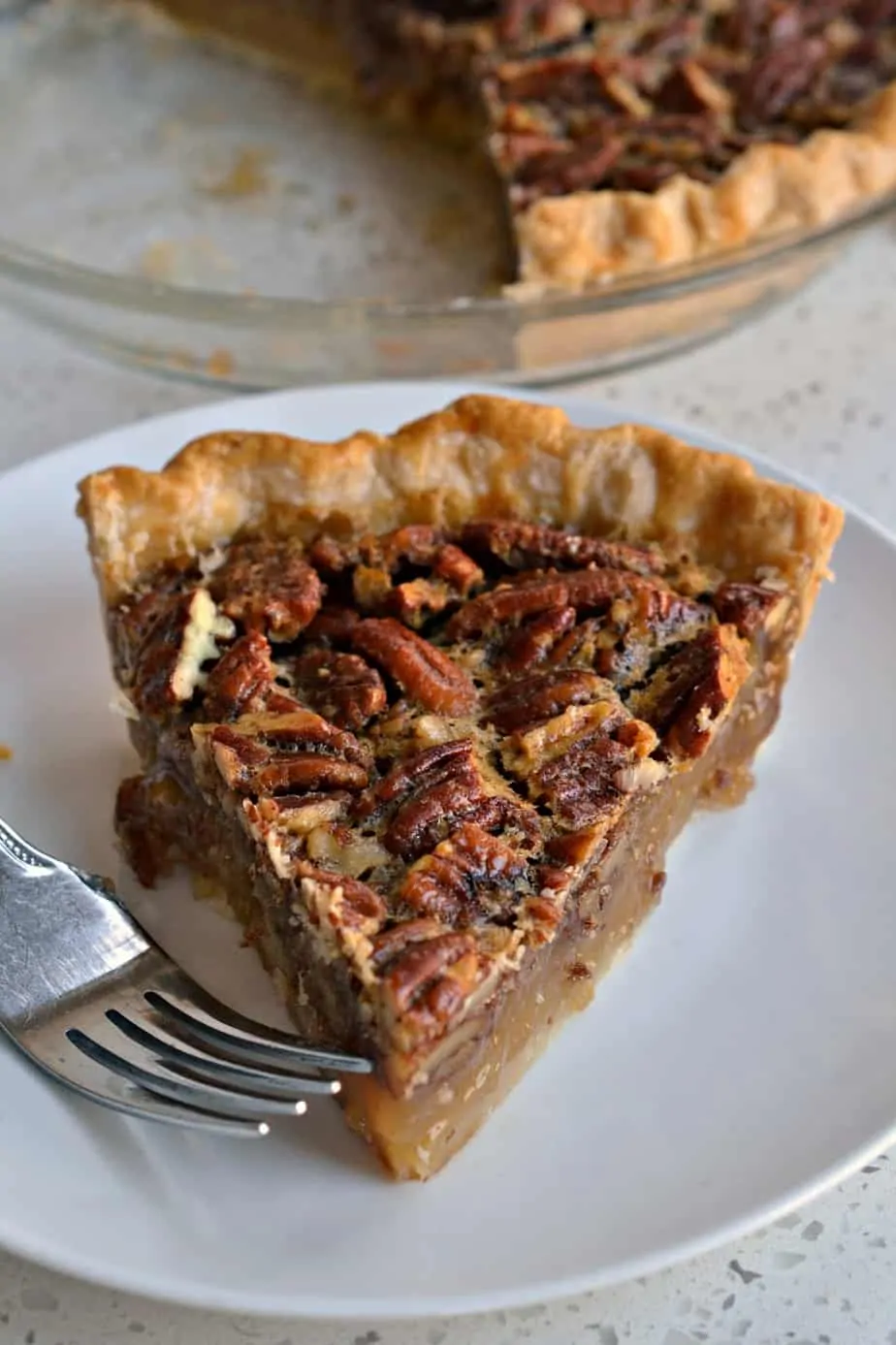 HOW TO MAKE PECAN PIE
Start by adding the coarsely chopped pecans to the unbaked pie crust. Then in a large bowl, whisk together the eggs, corn syrup, brown sugar, melted butter, vanilla, cinnamon, and salt. Now pour the mixture over the pecans. Finally, bake for about 55-60 minutes or until the center has just a slight jiggle, but the edges are stable and set. If the crust browns too much, cover the top with a loose piece of aluminum foil. The pie needs to cool for at least 2 hours on a wire rack before you slice it. Top with fresh whipped cream or a scoop of vanilla ice cream.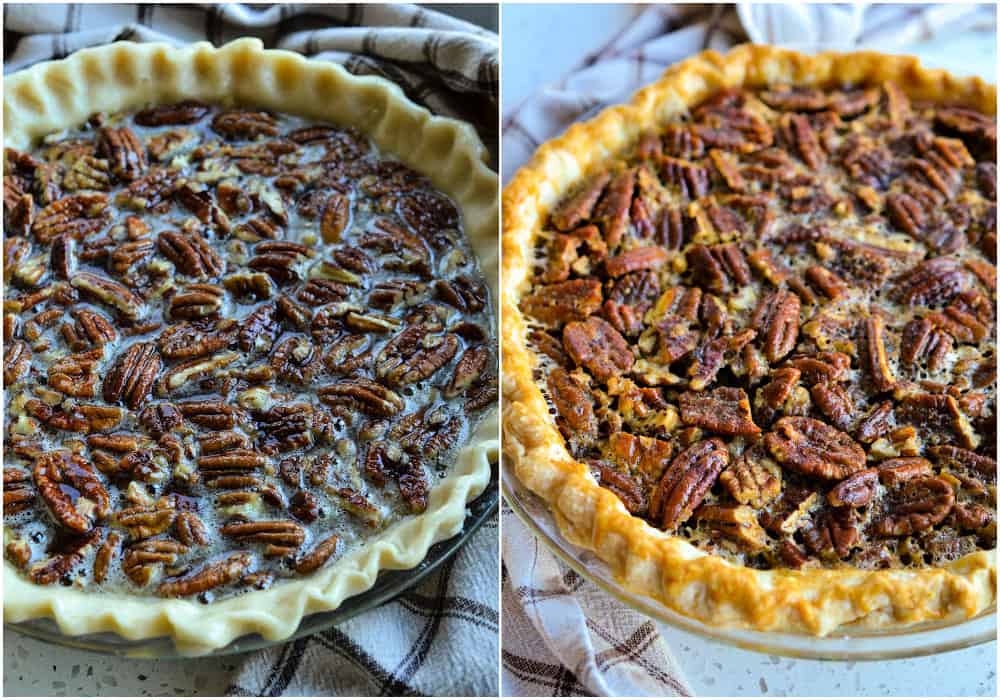 RECIPE NOTES AND HELPFUL TIPS
If you have the time make a delicious homemade pie crust. Simply cut this recipe in half since it is for a double crust. It won't take long at all, and your guests will be so impressed with your cooking.
Don't chop your pecan halves too much. Just a quick coarse chop. There should still be whole halves and some quarters for the best texture.
The pie should still be ever so slightly jiggly in the middle when it is done; however, the outside should be set and steady.
For the ultimate pleasure, top with fresh whipped cream and a pinch of cinnamon.
Once cooled, store the pecan pie covered in the fridge for up to 4 days or freeze for up to 2 months.
FLAVOR VARIATIONS FOR PECAN PIE FILLING
Bourbon Pecan Pie – Add 2 tablespoons of good quality bourbon to the egg mixture.
Chocolate Pecan Pie – Add 3/4 cup semisweet or bittersweet chocolate chips to the egg mixture.
Bourbon Chocolate Pecan Pie –  Add 2 tablespoons of good quality bourbon and 3/4 cup semisweet chocolate chips to the egg mixture.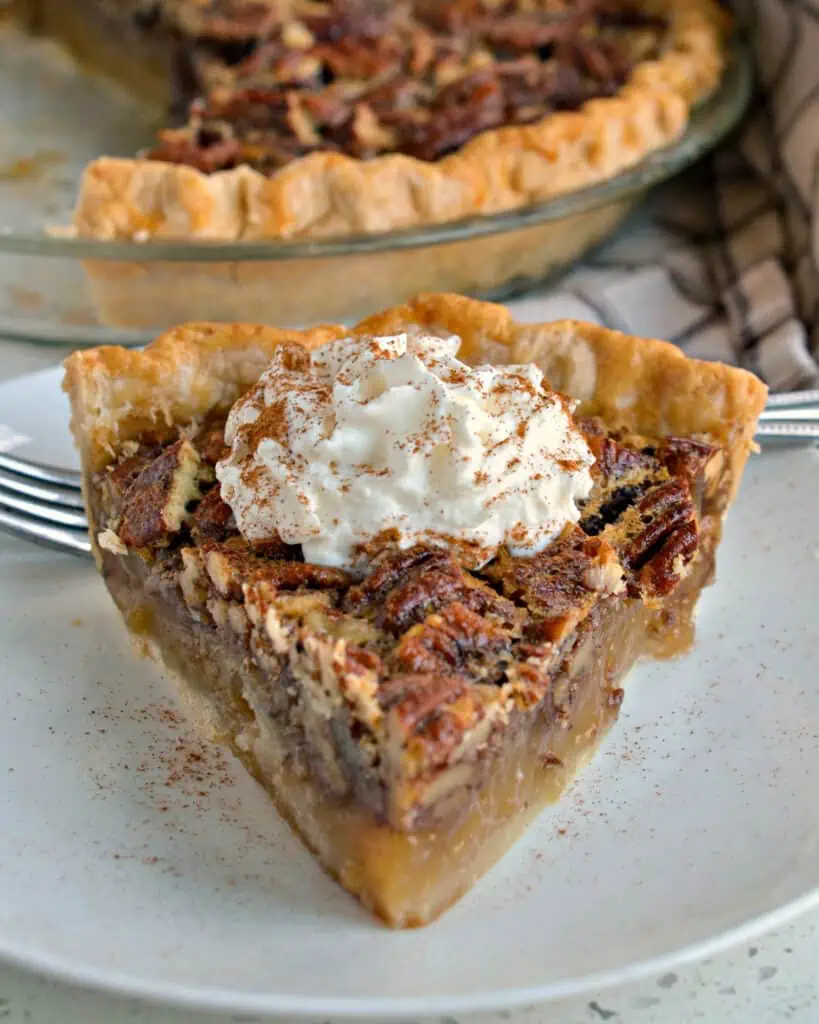 CAN YOU FREEZE PECAN PIE?
Yes, this pecan pie freezes well double-wrapped in plastic wrap for up to 2 months. For best results, thaw in the refrigerator, so condensation does not build up in the freezer bag and affect the crust or the consistency of the pie.
WHY DID MY PUMPKIN PIE NOT SET?
The most common reason that your pumpkin pie did not set was that it was not baked long enough for the custard to set or the oven temperature is off. Place it back in the oven for a few minutes but cover it loosely with aluminum foil to keep it from overbrowning.
OTHER PIES YOU WILL LOVE!
Credit: SmallTownWoman