Indulge in a fusion of flavors with our "Jalapeño Popper Mushrooms" recipe! Dive into a mouthwatering blend of cream cheese, garlic, cheddar, sizzling bacon, and of course, jalapeños, all nestled inside succulent white button mushrooms.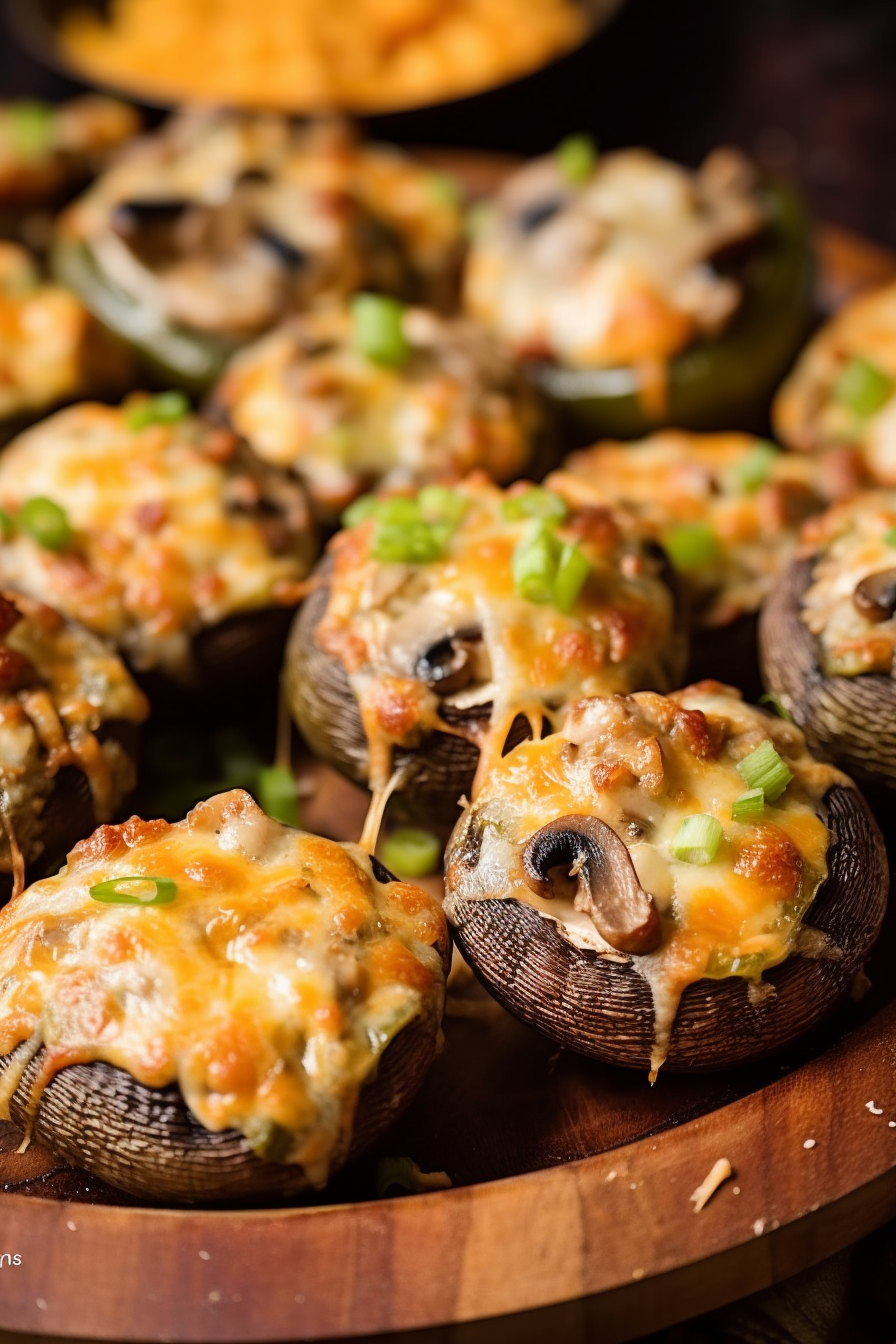 Ah, the tale of the "JALAPEÑO POPPER MUSHROOMS." I remember the summer evening when the concept was born. There I was, preparing for a backyard BBQ, caught in a dilemma between making jalapeño poppers or stuffed mushrooms for the party. Then, in a eureka moment fueled by a sprinkle of culinary genius and perhaps a glass of wine (or two), I thought, "Why not both?" That evening, guests were treated to a fusion of two classics, and let's just say, there weren't any leftovers. From that day onwards, this dish became the talk of the town and the crown jewel of my kitchen.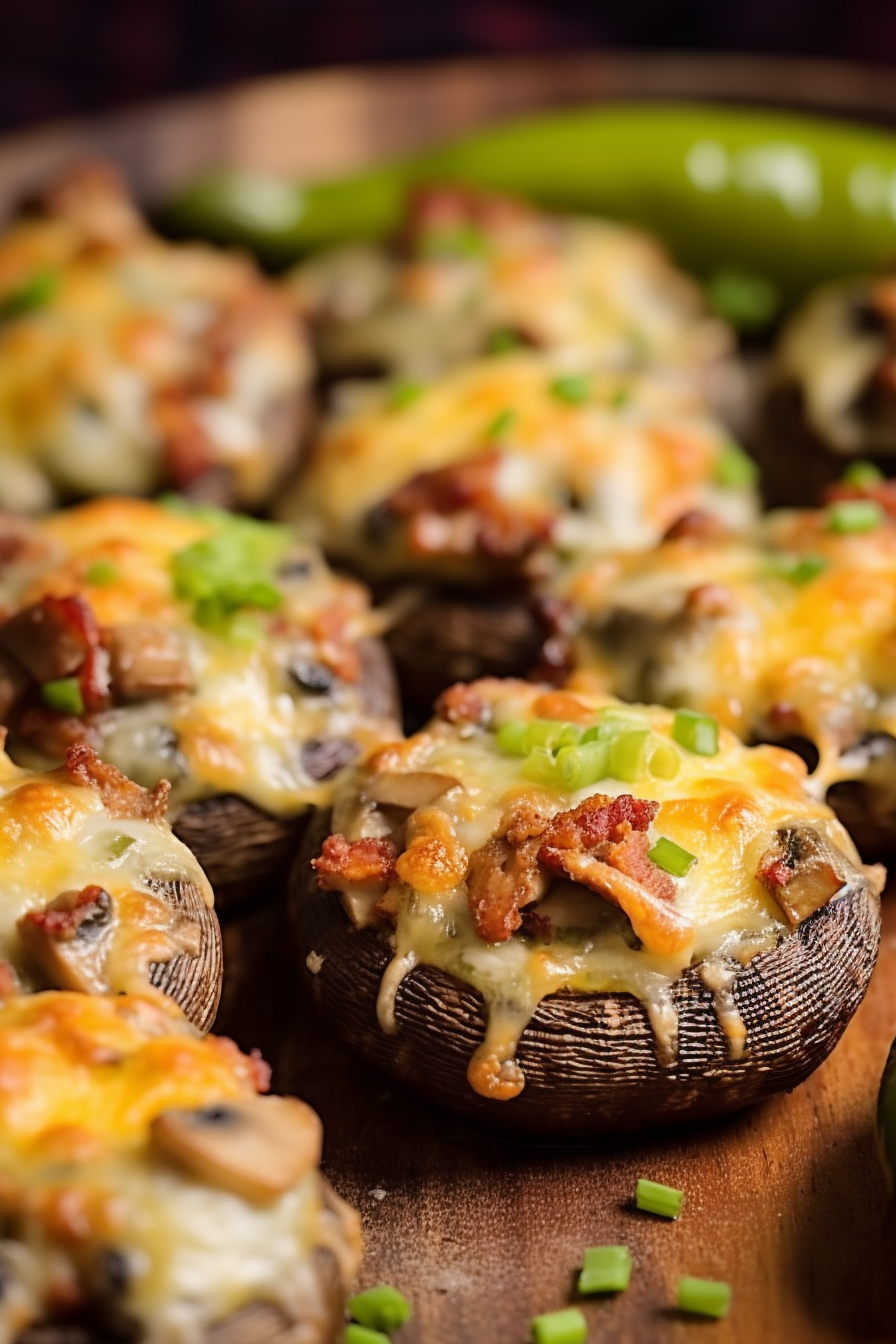 What makes this JALAPEÑO POPPER MUSHROOMS stand out?
Our "JALAPEÑO POPPER MUSHROOMS" is:
Unconventionally Delightful: A harmonious marriage of the spiciness of jalapeños and the earthy essence of mushrooms.
Party Pleaser: Always the first to vanish from the party table. Seriously, it's like a magic trick.
Flexible Prep: Got a busy day? Prep ahead and pop them in the oven just in time.
Low-carb Luxe: A treat for the taste buds without the carb guilt!
What are the ingredients for JALAPEÑO POPPER MUSHROOMS:
White Button Mushrooms: They're the perfect size for bite-sized goodness and offer a neutral palette that marries well with our spicy, cheesy filling.
Garlic: Go fresh! It makes all the difference. Those pre-minced jars are tempting, but trust me, nothing beats freshly minced garlic.
Diced Jalapeños: Can't handle too much heat? Feel free to adjust the quantity or give them a good rinse to tone it down.
Cream Cheese: Full-fat for full pleasure! But, if you're watching the waistline, low-fat versions won't compromise the taste too much.
Cheddar: Sharp is sharp! The tangier, the better. But any cheddar is better than no cheddar.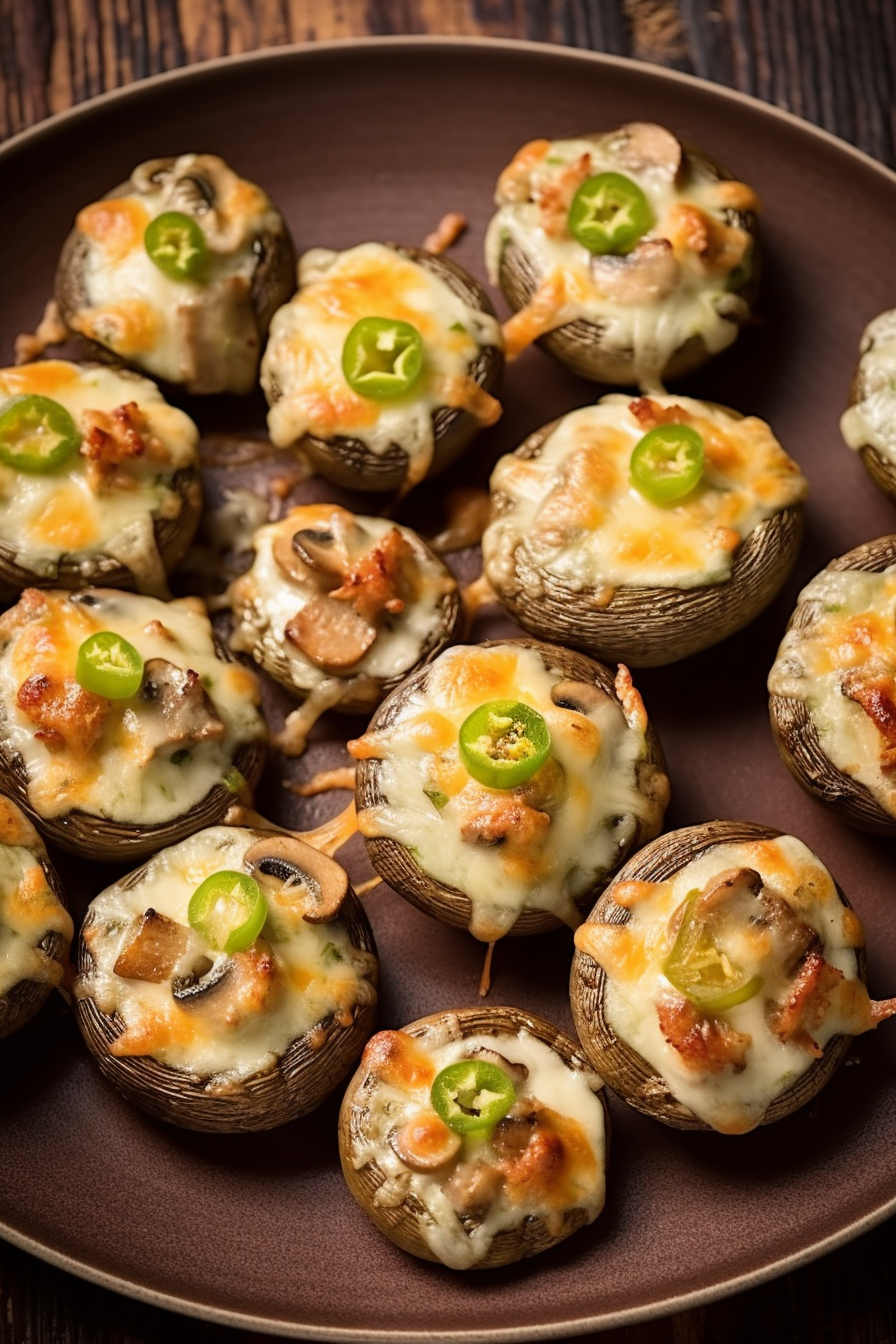 Steps to make JALAPEÑO POPPER MUSHROOMS:
Setting the Stage: Begin by preheating your oven to 350ºF. That baking rack you've been neglecting? It's its time to shine. Place it on a foil-lined rimmed baking sheet. (Pro-tip: This setup makes for easier clean-up!)
Mushroom Prep: Gently twist and remove the stems from your white button mushrooms. Don't toss those stems; they can be used in soups or composted.
Mix It Up: In a mixing bowl, bring together the star players: the cream cheese, minced garlic, jalapeños, shredded cheddar, and that glorious bacon. Mix until they're singing in harmony.
Stuff 'Em Up: Spoon that creamy, spicy, bacon-y mixture into your mushroom caps. Like tucking them into bed.
Cooking Magic: Nestle the mushrooms onto your prepared baking rack. Now, let the oven work its magic for 15 to 20 minutes. The result? Golden, bubbling, irresistible bites.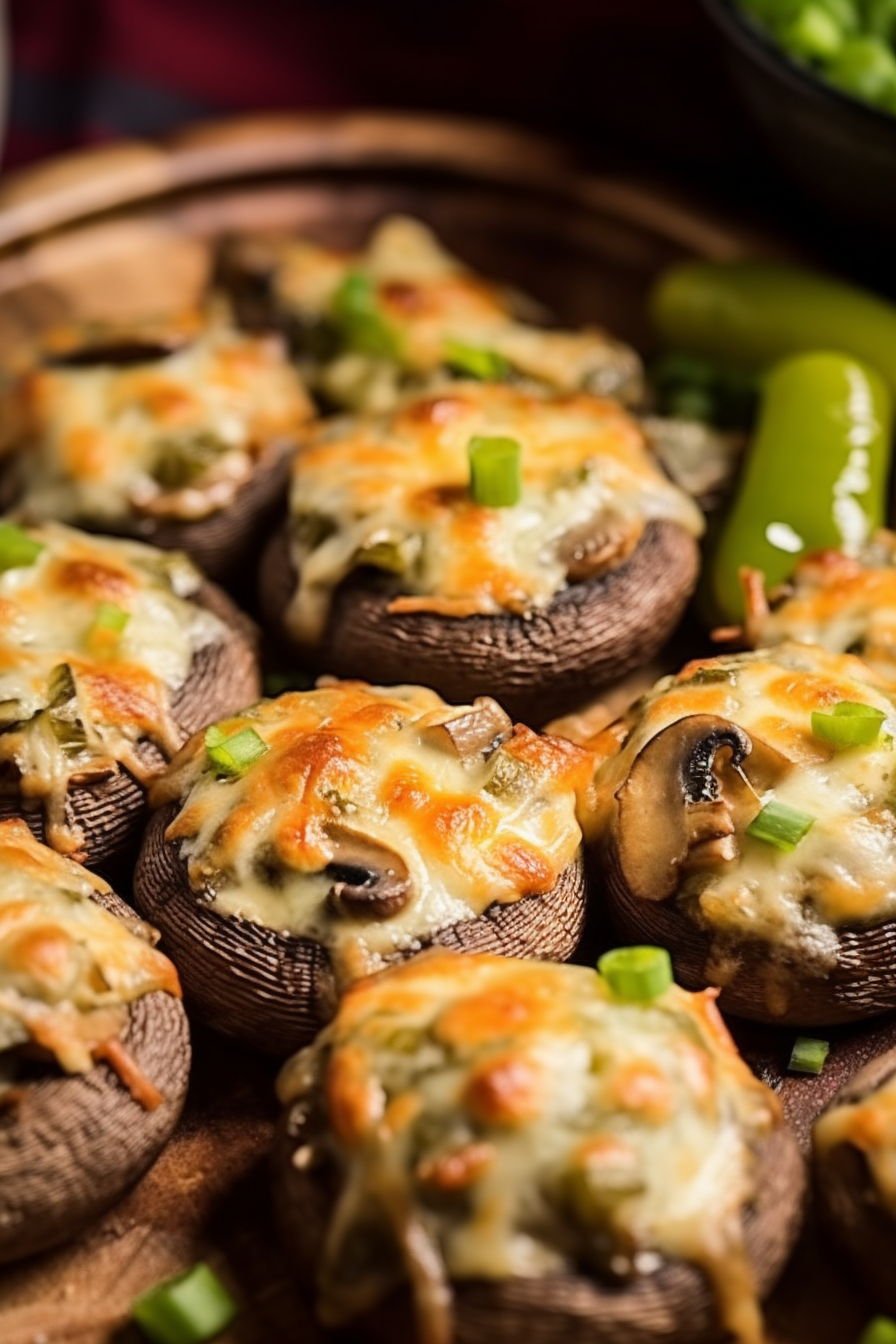 Storage Options for JALAPEÑO POPPER MUSHROOMS:
Got leftovers? (Firstly, did you invite too few guests?) No worries. Once cooled, you can store these tantalizing tidbits in an airtight container and refrigerate for 2-3 days. They're as fabulous reheated as they are fresh. To reheat, a few minutes in the oven will do the trick, ensuring they keep their shape and texture.
Variations and Substitutions:
Veggies Galore: Not a mushroom fan? Use mini bell peppers as a base.
Cheese Swap: Feel like a little smoky flavor? Swap cheddar with smoked gouda.
Go Veg: Skip the bacon and toss in some finely chopped sun-dried tomatoes for a vegetarian twist.
Heat it Up: If you're a true spice lover, consider adding a dash of your favorite hot sauce to the cream cheese mix.
Hope you have as much fun making these as I did concocting the tale behind them! Enjoy, my fellow foodies! 😄🍄🌶️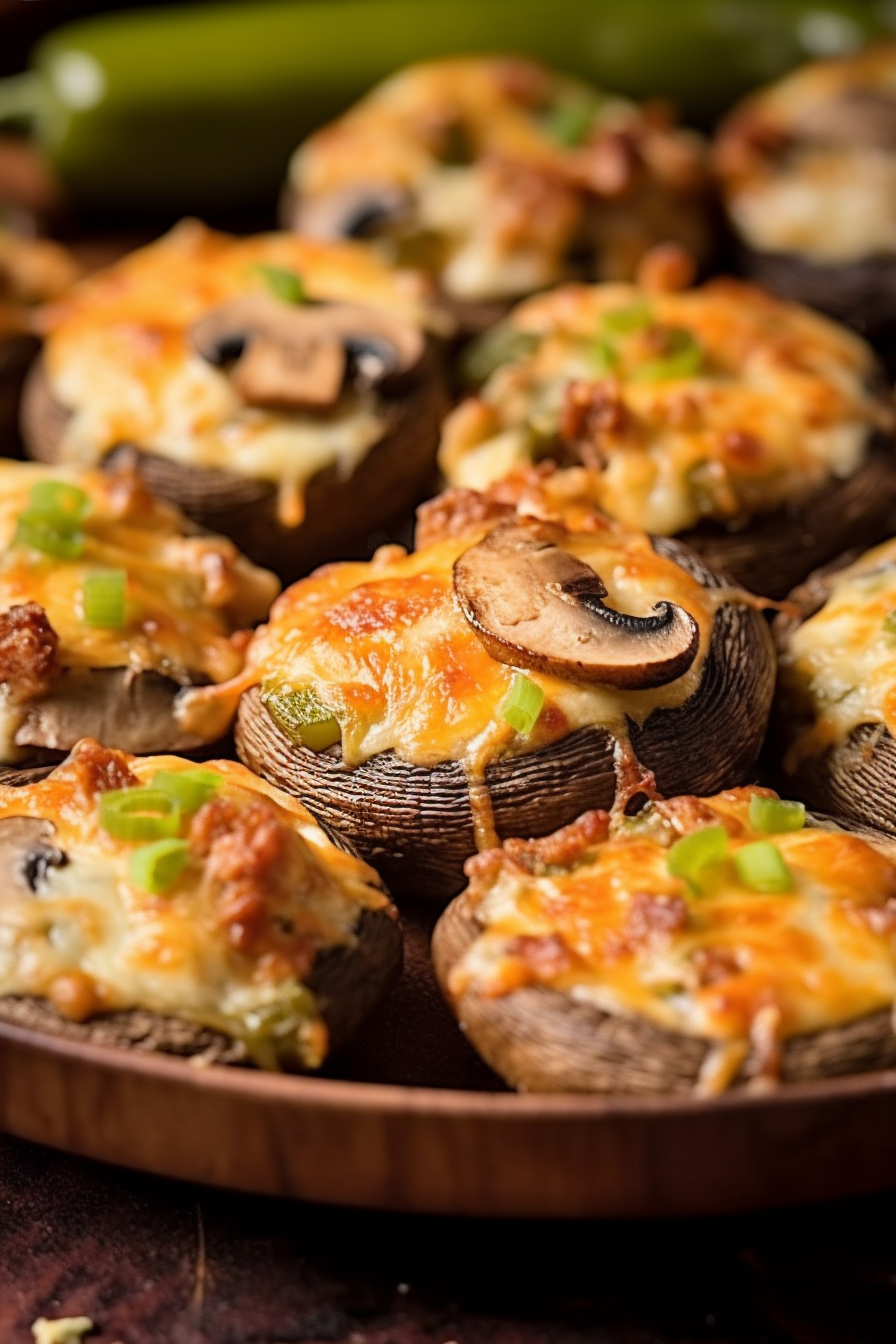 Ingredients
24

 

whole white button mushrooms

2

 

cloves

 

of garlic

 

finely minced

1

 

can

 

4-oz of diced jalapeños, thoroughly drained

1

 

package

 

8-oz of cream cheese, brought to room temperature

¾

 

cup

 

of finely shredded cheddar cheese
Instructions
Initiate the process by preheating the oven to a temperature of 350ºF. Concurrently, position a baking rack atop a baking sheet that has been lined with foil. This will be set aside for later use.

Carefully extract the stems from the white button mushrooms.

In a mixing bowl, amalgamate the room temperature cream cheese, finely minced garlic, drained jalapeños, shredded cheddar cheese, and the prepared chopped bacon. Ensure the ingredients are combined to uniformity.
Using a spoon, methodically fill the caps of the mushrooms with the previously prepared cream cheese mixture. Subsequent to filling, position the mushroom caps onto the prearranged baking rack.

Commit the mushrooms to the oven and allow them to bake for a duration ranging from 15 to 20 minutes. Upon completion, they should exhibit a golden hue and the filling should be bubbling slightly. Ensure they are allowed to cool briefly prior to serving.
Credit: thatovenfeelin